Ernie Osborne - Award Winning New Hampshire Wedding, Portrait & Event Photographer
Please show your support by clicking this Google +1 button!
.......................................................
Pricing for our award winning, high-end blend of classic and documentary Wedding Photography reflects that we have very little advertising costs to pass on to you thanks to our amazing couples and their families and friends talking about us. Please call us at 603-743-3786 in Rollinsford, NH or email Ernie at photo@acclaim.org soon about your 2013-2014 wedding date as we've been especially busy meeting with couples engaged to be married then.
In a time of much information, misinformation and salesmanship please visit our Wedding Photography FAQ page, where you'll find honest, intelligent answers to questions we're most asked about wedding photography.
Eighteen years of promises made...
...and kept.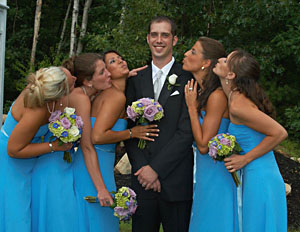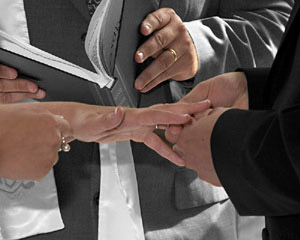 In a day when your choice of New Hampshire wedding photographers narrows to either poor artistry or unreasonably high cost, our lovely couples smile a lot at us. Heartfelt thanks to all our happy newlyweds from North Conway, NH to San Francisco, CA to London, England who made 2102 our best year yet, while 2013 promises to be even better, partly because you feel like talking about how we come through for you and love your Wedding Day like you do.



---

Bean - Honorary Wedding Photographer

Rest in peace, little Bean. We miss you.

Web Page established April 16, 1996. Last updated May 22, 2013.

Acclaim Professional Wedding Photography

452 Foundry St.

Rollinsford, NH 03869

Visit Ernie's Google+ Page!




---
New Hampshire wedding photographer Ernie Osborne has been invited most recently to photograph the amazing weddings of couples from all over the world at these excellent venues in New Hampshire, Maine and Massachusetts...
Portsmouth Sheraton Portsmouth NH, Executive Court Manchester NH, Dimond Hill Farm Concord NH, Wentworth By The Sea Newcastle NH, Dockside Guest Quarters York ME, Portsmouth Elks Portsmouth NH, Prescott Park Portsmouth NH, Three Chimneys Inn Durham NH, New England Center Durham NH, Flag Hill Winery Durham NH, Governors Inn Rochester NH, Elks Lodge Rochester NH, Rochester Country Club Rochester NH, White Mountain Hotel N. Conway NH, Christmas Farm Inn Jackson NH, Saunders Rye NH, Church Landing Meredith NH, The Oaks Somersworth NH, Martel Roberge Function Hall Rollinsford NH, Cottage By The Bay Dover NH, Cochecho Country Club Dover NH, Spring Hill South Berwick ME, Atkinson Country Club Atkinson NH, Abenaqui Country Club Rye Beach NH, Promises To Keep Derry NH, Candia Woods Candia NH, Castle In The Clouds Moultonborough NH, Castleton Windham NH, Executive Court Manchester NH, Sugar Hill Inn Sugar Hill NH, Loon Mountain Lincoln NH, Pat's Peak Henniker NH, Makris Lobster and Steak House Concord NH, York Harbor Inn York ME, Stageneck Inn York ME, Jonathan's Ogunquit ME, Cliff House Ogunquit ME, Old Village Inn Ogunquit ME, Clay Hill Farm Cape Neddick ME, Marriott Peabody MA, Cafe Escadrille Burlington MA, and many beautiful New Hampshire, Maine and Massachusetts weddings in private homes and yards.
New Hampshire Wedding Photography • Wedding Photo Gallery • Wedding Photography Packages • Reviews • NH Wedding Photographer
© 2013 Acclaim Professional Photography. Ernie Osborne is a New Hampshire wedding photographer serving the New England states of New Hampshire (NH), Massachusetts (MA) and Maine (ME). Ernie provides award winning digital wedding photography for your wedding ceremony, reception, civil commitment ceremony, or destination wedding. NH wedding photography, NH wedding photographers, NH wedding planning, NH wedding photos, timeless wedding imagery, photojournalism weddings, photojournalism wedding photographer, NH weddings, NH wedding planners. NH wedding, NH weddings