Jumpy bows to

all of our guests
---




Wedding Photography Reviews

Please leave me your feedback

Your opinion is essential to me and to people thinking about hiring me to do what you know I love to do. I would so appreciate an online review from you!

Please visit your preferred site to leave a review or comment. If you already have a GMail, Yelp or Yahoo Mail account, choose one of those. You can use your Facebook login at Citysearch & Insider Pages. Google reviews are increasingly the most helpful if not essential.

Thank you. Ernie

Following, you'll find excerpts from notes I've received from brides, grooms and their parents. Due thanks for the kindness and generosity of spirit I have found in my work. Ernie

"There are no words to describe how wonderful these photos are. You captured every moment of the special day and it was just like reliving the experience. Lindsey and Stephen just finished watching the slideshow as well and they were speechless. Thank you so, so much for all your hard work.... they truly are a work of art.

Thank you again!!!!" Beverly Richards, Mother of Bride, Biddeford, ME

"We received the album yesterday - they came out beautifully! I had the chance to share them with a friend and she was quite impressed with your attention to detail. I especially like the close-ups and am thinking of having one that shows the two of us holding hands during the ceremony made into a portrait. It reminds me of something I read about the intimacy of holding hands. It shows the world your connectedness and Ken and I do it so easily.

We are closing on our new home on the 31st and I hope to have some kind of celebration perhaps this fall. I would love it if you would consider attending and see what we do with some of our favorite pictures. And as always I will sing your praises to everyone I meet. You truly captured the happiness and love celebrated on that most wondrous of days!

Love," Cheryl Lawson, Springfield, NH


"Brendan and I wanted to thank you so much for the wonderful photos you took at our wedding. They went way beyond our expectations. I still cannot believe how beautiful they came out and our family agrees. You are such a cool guy to work with. You made us feel comfortable and at ease. It's like we knew you for years. We are very happy that we found you and thank you so much for being part of our wedding. And you prices aren't bad either!"

Danica and Brendan Cannon, Upstate NY

"Matt and I want to thank you again for the extraordinary job you did for us on our wedding day. We got SO MANY COMPLIMENTS on your behalf. Here's what the critics had to say:

'Ernie did a great job'
'He was everywhere. Whenever something was going on he was there. Everytime I looked up I saw him.'
'He took pictures of so many people.'
'Ernie took his responsibilities to the next level. He was getting chairs for people, and napkins for the cake cutting. He didn't have to do that, but he did. That was fantastic.'
'He took pictures of everything.'
'Ernie was so conscientious for you and Matt.'
'I was very impressed with him.'

Just thought you'd like to hear what people were saying. And Matt and I totally agree.

Thanks again," Alyson & Matt Cravens, Acton, ME

"I just want to thank you again for the wonderful job you did at our wedding and the beautiful pictures that resulted! You were a joy to work with--I'm glad I found you! Thank again!

Love," Alison & Paul Hurteau, Newmarket, NH

"Alan and I just wanted to thank you for your taking such beautiful photos at our wedding! We are still in the process of getting the proof album around and hopefully by the holiday we will be ready to place our first order! Thanks Ernie.

Love," Karen and Alan Rubin, Watertown, MA

"The Couture family would like to thank you for always putting us at ease while taking our wedding pictures. Kelly's wedding went so smoothly in part because of the wonderful way in which you take special care all goes well. We look forward to sharing another happy day August 3rd when you do Kourtney's wedding.

Many Thanks." Joe and Debby Couture, parents of bride(s), Somersworth, NH

"Mike and I want to thank you for taking such beautiful pictures. I haven't stopped looking at them since we got them. We are so glad you suggested going to the gazebo, they are so beautiful. We will be in touch to place an order.

Thanks again." Katie and Mike Krauss, Somersworth, NH

"We are writing to express our gratitude for the professionalism, expertise and joy you brought to our wedding day. The proof book turned out great. We can't wait to see the enlargements. Please consider this letter as a full recommendation of your services.

Sincerely," The Grafs (Rich, Angie and Gavin), Essex Jct., VT

"Thank you so much for the beautiful photos. We can't wait for baby pictures in the future (hopefully the near future!). Thanks again."

Love," Ben and Tricia McAllister, Cape Neddick, ME

"Stuart and I greatly appreciate your professionalism and sense of humor at our wedding June 5th. We had a great time, and we hope you did, too. We are almost ready to get together again for our order, and will be in touch.

Thank you." Amy and Stu, Dover, NH

"Thank you for the wonderful job you did. Everything turned out great. We will have terrific pictures to cherish for a lifetime.

Thanks." Steve and Alexa Carignan, Rollinsford, NH

"Derek and I want to thank you so much for spending our special day with us. You're great at what you do. We can't wait to see the pictures. They'll be beautiful.

Thank you again so much." Jess and Derek, South Berwick, ME
"We would like to extend our sincere thanks to you and the wonderful job you did for our wedding. You showed true interest and genuine care for our friends and family, and for that we are extremely grateful.
Thanks." Bill and Jody Crotty, Lee, NH
"I don't know how to begin. You are the greatest. I haven't even seen the pictures yet, but I know they're great. You made me feel so beautiful and special on my wedding day. That is something I will never forget. I have already recommended you to others and will continue to do so.
Thank you!" Tina and Brent Bickford, Barrington, NH
"Just a note to thank you for being the perfect photographer for our wedding--you were exactly what I had hoped for! Your patience and gentle nature were greatly appreciated.
Fondly," Patty Osten, Boston, MA
"Jon and I would like to thank you again for helping to make our wedding day special and memorable. You were very patient with two nervous people, as well as their families! You really helped the day to go along smoothly-from being the only calm one at the madhouse in the morning, all the way through getting ready to leave. Even though it's been nine months since our wedding, we've already gotten a lot of enjoyment from looking at our proofs and showing them to our family and friends, and I know this will continue in the future. We're really happy with our pictures-even me, and you know I hate having my picture taken!
Take care and thanks again," Lisa Smith, Rochester, NH

"It's hard to believe that the wedding and reception have come and gone. The day went by so fast. Mary Jane and I want to thank you for making the day so special for us and our families. Your attention to detail was remarkable. Your expertise in handling all aspects of the wedding and family photo's really came through. You are truly talented. Please feel free to use us as a reference at any time. You helped to make Saturday the best day of our life.
Sincerely," Tom and Mary Jane Proulx, Dover, NH

"Just a little note to thank you for the wonderful job you did on our wedding pictures! You made our pictures of a very memorable day special!!
Thanks again!!" Ernie and Jodi Cook, Rochester, NH

"Thank you so much for doing our wedding Sept. 17th. The pictures are beautiful! Our friends who also got married this year are so jealous of our proofs! Theirs are not half as nice. We would highly recommend you to anyone.
Best regards," Teri and Jim Skinner, Nashua, NH

"Although this is very late, Chris and I would like to send our most sincere thanks for the beautiful job that you did on our wedding pictures. Every time we look at them we marvel at the job well done! You come very highly recommended from the both of us and we tell all those "pre-wedders" about you. You truly have outdone yourself!!
Our most sincere thanks," Chris and Heather Howe, Rochester, NH

"Lance and I want to thank you for the beautiful job. We love the pictures you took of our wedding. So many people commented on how hard you worked and what great shots you took. It is going to be hard to narrow our selection down. We will gladly recommend you to all our friends. Thanks again.
Sincerely," Lance and Heather Weed, Exeter, NH

"We can't express to you how much we thank you for such wonderful photos. In all the excitement, we didn't have time to stop and enjoy every single second, but in looking at our wedding photos, we are able to relive all the memorable and touching moments.
You are truly talented, and we thank you." Kristen and Geoff Aleva, Sanford, ME

"The photos are a bride and groom's dream come true!! There are no words to thank you enough for capturing the events of our special day the way that you did. You went over and above to make things easier for us for this wedding.
Thank you! We are so pleased!" Nancy & Michael Ryan Rollinsford, NH

"Scott and I did not want to miss another opportunity to thank you again for the great job you did shooting our wedding day festivities on June 3rd. We are still looking at the pictures and trying to decide on those we want for our "official" wedding album. The fact of the matter is... they are all so darn good, that it's become increasingly difficult to choose.
Ernie, thanks again. Sincerely," Scott and Amy Chalifour, Merrimack, NH
"Thank you for bringing a professional touch to our wedding memories. We appreciate your patience and care in making photo keepsakes. We will be happy to recommend your services."
Rick and Jennifer Newsome, Dover, NH

"Thank you for all the time and hard work you put into our special day. That meant a lot to both of us. Your work is something we will treasure forever.
Thanks again!" Todd and Joyce Blaisdell, Rochester, NH

"Just wanted to let you know how much we love the wedding proofs! You did a wonderful job capturing the feelings of the day. It will take us forever to choose photos to finish--bear with us!
Again, thank you so much for your work!" Kim Frederic-Klein, Barrington, NH

"We want to thank you so much for the wonderful pictures of our wedding. We've never seen better quality or attention to detail. You gave us something we will always cherish."
Christine and Mike Wiles, Rochester, NH

"These pictures came out fabulous! We absolutely love them, and we have gotten many, many comments from friends and family about how they came out and how wonderful you were at the wedding. We couldn't have asked for a better photographer to help us capture our special day on film. We can't thank you enough! We will definitely recommend you to anyone looking for a photographer.
Thank you again for a great job! We couldn't be any happier!"
Stephanie and Jeffrey Tarr, Norwood, MA
"Tom and I would like to thank you for a job well done on our wedding day photography. We were very pleased with the quality of the pictures and the special moments you caught for us on film. Not only were we impressed with your photography, we were impressed, as well, with your professional attitude. It's obvious that you enjoy your profession and we would be happy to recommend you to anyone planning their wedding.
Thank you." Lisa and Tom Fleury, Rochester, NH

"You made our day so special!
Thanks again," Karen and John Enscoe, Gonic, NH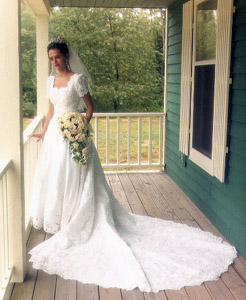 "Thank you once again, for doing another daughter's wedding. As always, we enjoyed the professionalism and graciousness."
Sylvia Ramsdell, mother of bride, Quincy, MA

"We wanted to thank you for making our wedding day so special. Everyone raved about you. We can't wait to see the pictures--we're sure they will be lovely.
Thanks again and we'll see you soon." Diane & David Crehan, N. Weymouth, MA

"Congratulations on your marriage! We wish you and your wife a lifetime of happiness! Thank you so much for doing such a wonderful job at our wedding. Your patience and good humor were very much appreciated. The pictures are great. We'll be ordering soon!
Love," Anna and Mike Berrian, Newington, NH
"Thank you so much for photographing our wedding at the York Harbor Inn! We received the proofs this weekend and they're spectacular! We didn't expect them so soon. Your were very professional, enthusiastic, attentive to details and unobtrusive during both the ceremony and the reception. We appreciate the helpful hints/photography tips you provided some of our guests during the day. We would have no hesitation recommending you to someone else or using you again in the future.

Take care." Heather and Ken Litman, Newton, MA

"Thank you for all your hard work on the day of our wedding. we had a lovely day and you were very caring and respectful. All the photos are lovely--we couldn't be more pleased! I look forward to ordering an album after the new year. Have a wonderful holiday season.

With thanks," Michele and Scott Marchildon, Auburn, ME
"Thank you so much for photographing our wedding Oct. 19th. I know for myself, you made me feel so at ease rather than tense and nervous like I easily could have been. Our sessions helped to maintain the fun atmosphere we created and we really appreciate that. And through it all, you were a consummate professional, treating our guests with the same care as you did the bride and groom. Thank you again for everything, and feel free to use us as a reference.
Talk to you soon," Sarah and C.B. Hamlyn, Berwick, ME
"Mark and I talk about you like you're an old friend. I'm glad you were there to keep me smiling and make the day go so smoothly. Thank you for making us look so beautiful and glamorous. You are highly recommended by the two of us.

Thanks again." Andrea and Mark Giovanni, Dover, NH

"Thank you so much for making our wedding day special. We don't think we could have done it without you. Somehow your voice seemed to soothe my bridal jitters and relax me. No only were you professional, but you were a lot of fun. Both our families have been raving. We can not wait to see our photos--I'm sure they will be gorgeous. We hope you also had a great time, and if we ever need a photographer again, we would definitely call you. We also would highly recommend you to anyone, especially Brides and Grooms.

See you soon. Love," Debbie and Sam Calomo, Westford, MA

"Thank you so much for your hard work at our wedding! We had many compliments on how professional you were and how much you "kept it together"... with the insanity of the photo-snapping relatives who seemed to be popping up underfoot. Thank you for your patience!! We appreciate everything you did, and we're looking forward to sitting down with you and going through the pictures.

Sincerely," Jessica Hanson, Newmarket, NH